I took Bikram yoga today for the first time in 10 years. I recalled that I wrote a blog about it the first time I went. Even 10 years older and perhaps 20 lbs heavier the experience was pretty much the same. So here it is, my trauma for your enjoyment.
You'll Never Know Unless You Try, 12/6/06, 04:56 PM
I don't know what got into me this past weekend, but I woke up Saturday morning with this overwhelming urge to take Bikram Yoga, which was odd because I've never taken a Bikram Yoga class before. For that matter I've never taken a yoga class of any kind...ever. So where did this sudden and uncontrollable urge come from? I don't really know.
I've often walked by the studios where they give it and have seen people doing it so I had had a curiosity about it before. Plus on Thanksgiving it came up in conversation and two people, neither of whom I would have associated with physical activity, swore by it. I usually don't succumb to casual recommendations like that. I've also known people who have sworn by Amway, Shaklee and Scientology but I've never been tempted to give any of it a try for myself. But somehow the yoga seed had been planted and the urge had to be satisfied.
Before I get ahead of myself, in case you don't know, Bikram Yoga is a sequence of 26 yoga postures and two breathing exercises developed by Bikram Choudhury that is done in a room heated to 105°F (40.5°C) and accompanied by specific dialogue.
So anyway, I wake up with this inexplicable urge to go to yoga class. I poke around on the internet and find a studio that has a class specifically designed for first-timers down by the Flatiron Building. In a matter of minutes I make a phone call, reserve a spot, pack my bag and am out the door.
I get to the studio, which is up three flights of stairs, walk in and it's like a sauna. Duh. There are three or four people sitting in the lobby all hot and sweaty from having just finished the previous class The men are in shorts and shirtless and the women are in spandex shorts and crop top tanks. You think that might be kind of sexy, right? No such luck. These people looked like reheated death. And might I add, for supposedly health conscious people they were the sorriest looking rag-tag bunch you could imagine.
So I pay the guy at the counter, get a mat, towels and a bottle of water. I go into the very crowded locker room, change into my shorts and sheepishly take my shirt off. For the record, I don't have any real hang-ups with my body. I'm not going to win any Mr. Universe contests, but I have no reason to be embarrassed either. Probably because I was in foreign surroundings, I felt so conspicuous I might as well have been standing their stark naked with fleur-de-lis shaved into my pubic hair.
Locking my modesty away with my personal belongings I took my mat, towels and water and head into, what they refer to as, the "hot box. " Let me put it this way. Have you ever smelled stinky feet? Toe jam? Dirty armpit? Crotch rot? Imagine that all baked into a moldy carpet at 105°F and that's pretty much what the hot box smelled like. Oh yeah, it smelled like "box" too.
After a moment of wrestling with my gag reflex I situated my mat and watched the other first timers come in and do the same (gag and place their mat, that is). Finally the teacher, Brigit-Ann entered. She was very pleasant and gave a brief summary of what we were about to do. Once everyone introduced themselves and apprised her of their previous physical injuries we were off and running.
We started with a deep breathing exercise. This was particularly difficult since the odor made you want to breathe as little as possible. The first two or three deep whiffs almost knocked me out, and after 5 or 6 more my brain was forced to decide whether to ignore the smell or induce vomiting. Thankfully it chose to ignore the smell and we moved on to the standing poses.
The first poses were more like stretches, to one side then the other, then back. Then we did this squat sort of thing and the teacher who has been yammering away since we started (hence the "accompanied by specific dialogue" part of the class) says that this is the "awkward pose. "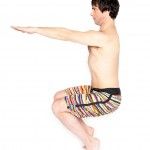 No sh*t.
Then as if we're playing a solo game of Twister without the mat we move on to the "eagle. "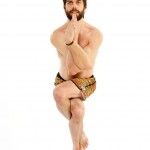 Personally I thought THAT should have been called the awkward pose.
It was round about the pose called the "triangle" that I blacked-out for the first time.
I know it doesn't look hard, but try doing it after you've just had your ankles wrapped around your torso.
I didn't actually faint or anything, I just all of a sudden realized that my eyes were open and I couldn't see anything. Then we moved on to the floor positions and I thought thank God, at least if I do pass out I'll already be on the floor.
My least favorite was the "rabbit" which, you'd think should have been my favorite since it resembled something like inverted auto-fellatio.
Brigit-Ann kept saying, "Breath normally, breath normally. " Which begs the question, "What is normal breathing when you have your head stuck up your a **?"
Finally the class ended and there I was on the brink of dehydration lying on my mat in a three inch deep puddle of my own sweat. My fingertips were shriveled as if I had been soaking in a hot tub for the better part of a day. And according to BA (as she preferred to be called) I had just worked every muscle in my body, I was detoxified and my chakras were cleansed or what-have-you.
I finally got the gumption to pick myself up off the floor and get myself back to the locker room where I showered and changed. The ordeal was over.
Never in my life have I suffered through such intense physical toil. However, once I got myself back to neutral, so to speak, I felt almost euphoric. Trust me, euphoric isn't a word I use all that often. As a matter of fact, I don't think I've every used it. The funniest part of all, is that even if the joke's on me, I think I'm going back. . . . more . . .