If you're headed to Atlantic City and you want to venture outside of the casino matrix, there's more to do than just pawn your gold…Seriously!
The first time I went to a casino town I had envisioned wealthy folk in tuxedos (owned, not rented) at baccarat tables sipping martinis (shaken, not stirred). If this is your idea of Atlantic City, let me give you a heads up, you may be a little surprised.
Tourist websites forget to tell you that you'll be surrounded by this:
I don't have time for a Marxist diatribe right now, let's just say that it's a city of extremes.  If you find yourself wondering what lies beyond your playground at The Revel or you need to take a break from losing your oldest kid's college tuition at The Borgata (it's ok, we all know he's no rocket scientist and isn't cut out for college anyway) here are some great finds your concierge won't tell you about:
Atlantic City locals have repeatedly told me, "You have to go to Angelo's Fairmount Tavern."  After years of working the casinos I finally got around to going and I have to say, they are right. If you want some of the best food available at the best prices then Angelo's isn't an option, it's a must.  The moment we walked into the tavern we were hit by the warmth and charm of the bar. We let the friendly staff (Angelo's granddaughter, niece and nephew) know that we'd be having more than just drinks and we were guided through a small wooden door that looked like a broom closet or WC into the restaurant and back to 1957. We ate and drank seriously great food and house wine like swine for a fraction of what we'd pay at a casino restaurant. The clientele was very mixed, always a good sign – locals, blue collar, white collar and even a table of models who behaved themselves.
Models can be obnoxious in their own element (NYC, LA, Milan) but here at Angelo's they know they're seriously outnumbered so they keep the attitude in check…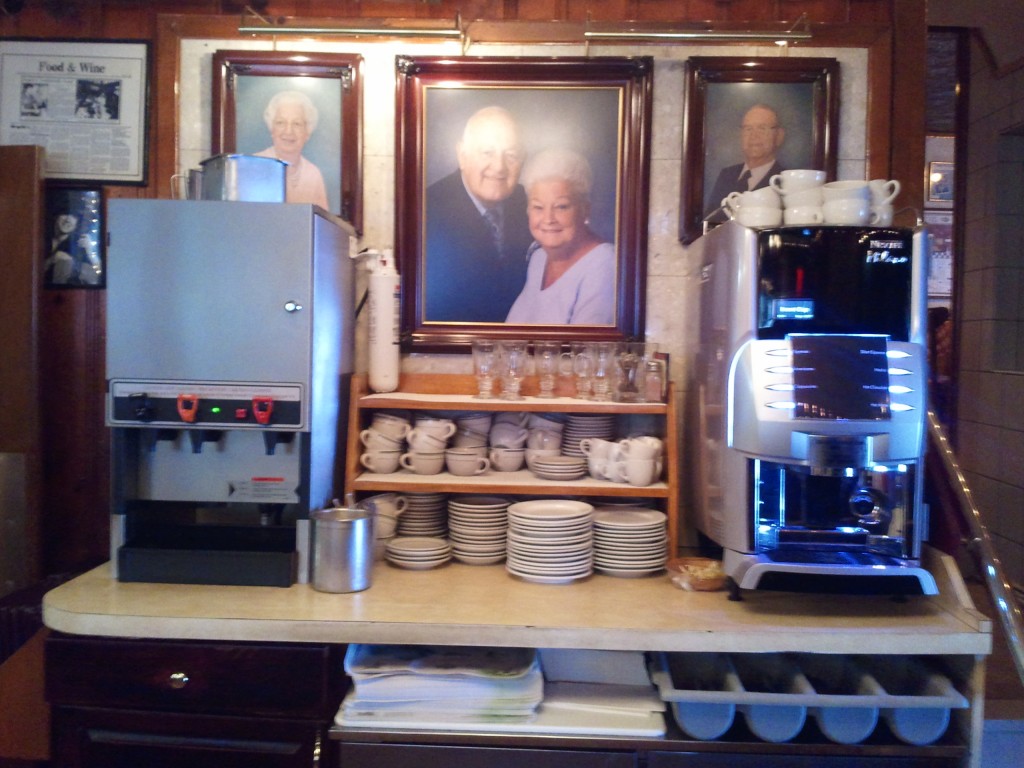 Lady Gaga, Carrie Underwood and regular schmos have packed into the maze of small dining rooms behind the tavern door at Angelo's – perfect place for a private party, btw.
The Irish Pub on St. James Place at the Boardwalk is the real deal. Great food, fantastic prices, and a relaxed, beautiful pub atmosphere. Blackboard specials are $8.50, dinner is served until 3:00am and late night food goes until 6:00am. Like most of the places I'm recommending, The Irish Pub is a great oasis but you should get there via the boardwalk instead of the streets and do NOT walk there alone at night.  It's right off of the boardwalk but you can't be stupid. It's a perfect set up for 'have nots' who want to roll stupid drunk tourists, don't be one. Save that shit for your hotel room or a chain restaurant in one of the casinos.
It's ok to be a drunk asshole in a casino, your bill has been padded with a drunken idiot fee…
If you're in the mood for a seriously great sandwich go to White House Sub Shop. I don't like to blaspheme, but some claim it rivals Pat's or Geno's subs in Philly.
 If you're vegan I don't know what the hell you're doing in Atlantic City, but there's one place that offers vegan food: The Veggie Grille Pizzeria Restaurant. The only game in town,  it's small, off the beaten path and has a gritty sub shop atmosphere. It's not entirely  vegan but they do offer some choices.  It was pretty good, pretty fresh but it's not your LA or NYC vegan dining experience, just get those images right out of your head and remember that beggars can't be choosers.
 If you want to stock up on food for your hotel suite or condo rental you will be up for a challenge. I strongly suggest you stock up on goods before you're in Atlantic City. I usually drive in from Newark airport or New York City and make a pit stop 25 minutes away in Hamilton, NJ. Once you get any closer to AC the pickins' become much slimmer and overpriced. I have no issue blowing good money on well made cocktails or a great dining experience but spending $22.00 for an $11.00 bottle of wine in a casino wineshop irritates me more than the cast of Jersey Shore. Once you've stocked up the only game in town to replenish your produce is Santori's Produce.
A good late night hang is Tony's Baltimore Bar and Grill. The bar is open 24hrs, food is good and served until 3:00am and I've never been to a dive bar with so many decent wines by the glass. Grab a glass of Mondavi pinot grigio for $5.50. The waitresses seem like they've worked there for decades and they have a certain "Don't mess with me and I won't mess with you" style of service.  I have no issue with this as it was also my style during my waitressing days.

And last but not least, You should find a way to get yourself into Chef Vola's:
This BYOB, family owned, italian restaurant is literally in the basement of a house. Reservations must be made weeks in advance and even then you may end up waiting for your table. Everyone I know who has been to Chef Vola's says it's well worth the wait and the cramped-grandma's-basement atmosphere. I haven't dined here yet because every night I've spent in Atlantic City I've had shows and I simply refuse to rein myself in while experiencing Vola's. If I'm going to wait weeks for a table and be cramped into a small basement for this highly touted dinner I have no intention of practicing self control…I'll get there one of these visits.
 Ok, I've been heavy handed on the italian food but that's what they do in Atlantic City and they do it well. There's more history, stuff to do and great food to experience but that will have to be another post. In the meantime, here are a few more things to check out: 
The Tanger Outlets – Not the most impressive outlet shopping but a nice change of pace from the drinking/overeating/gambling you'll be doing. I find the sportswear shops (Nike, Puma etc.) and the Famous Footwear Outlet to consistently have the best finds. Most of the other 'higher end' store merchandise screams "Outlet".  If you're serious shopper you may want to head over to:
The Pier Shops at Caesar's – This silly overpriced mall was supposed to bring back high end to the boardwalk. It may have breathed some new life into the area but it's now in chapter 11. Slightly depressing to walk this mall as shops are being closed down but serious shoppers can take advantage. Higher end stores like BCBGMAXAZRIA and JUICY have constant sales and added discounts just to keep their merchandise moving. You'll find better deals than you will at most of the outlets down the street.
The Jitney is an easy / cheap way to travel up and down Atlantic City but I would not take it alone at night (unless you're attracted to people with teardrop tattoos, if this is the case, go for it). It's best to travel outside of the casinos with at least one other person, preferably an even larger group. You can always grab a taxi at any casino or major restaurant as well. Night time travel in Atlantic City is not the time to count pennies; your health insurance company will just say the gash in your forehead from the mugging was a pre-exitsing and refuse to pay for stitches.
Lucy The Elephant – Six stories high, Lucy is a 131 year old (8 years older than the eiffel tower) giant elephant building/roadside attraction. Kids, history buffs and anyone with a sense of curiosity love Lucy. Guided tours up to Lucy's top are offered every half hour. I suggest you go during nice weather as it gets quite windy and it's a great place to lollygag.
Lastly, Mr. Pigeon:
Have fun!
The post INSIDER PASS: ATLANTIC CITY appeared first on .